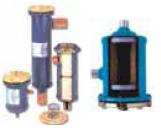 -Offers the flexibility of using either replaceable filter cores as protection against solid contaminants, or replaceable filter-drier blocks for protection against acid, moisture, and solids, and provides high liquid line flow capacities for larger air-conditioning and refrigeration jobs.
-Simplified internal hardware for easy installation.
-Full flow fittings for low pressure drop.
-Corrosion- resistant epoxy paint finish.
-Sturdy steel shells for long life durability.
-Safe working pressure of 500 psig.