Practices for energy saving refrigeration systems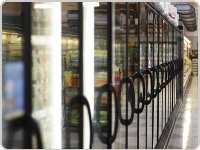 Practices for energy saving refrigeration systems
There are a number of systems and practices that can be implemented for refrigeration systems that will help your business save energy. By saving energy with refrigeration conservation the profitability of your business can improve while at the same time reducing harmful carbon emissions into the environment.
There are many simple procedures that can be taken to reduce the amount of energy usage of your business's refrigeration system.
Regular maintenance of refrigeration components such as coils, fans, seals, etc. will help keep the system running at its designed efficiency level
Check temperature settings to ensure they are not lower than necessary
Keep refrigeration systems out of areas that have frequent fluctuations in temperature - areas in direct sunlight or away from outside doors
Install a variable speed drive to control the level of refrigeration necessary to keep items cool
Defrost cycles can be reduced by adding a sensor at the evaporator and by running defrost at nigh t
Use air curtain technology to seal in cool air and keep dust or other contaminants out
Air Curtains
Air curtains are streams of air that behave like doors.
Air Curtains serve as a boundary between indoor and outdoor area. They act as a closed door and prevent intrusion of external hot, cold or impure air.
They are designed to maintain required room climate and to save energy.
All units come either as Simple or Heated (Electrically or with Hot Water) and most of them can also stand vertically, if ordered in advance.
Additionally most of the units incorporate filters for cleaning the supplied air.
Aircurtains stand out for Slim design, simple mounting, high durability and powerful airflow.
Most widespread is the classification of air curtains by the size of protected opening and installation type.
more

Air PVC strip Curtains -Insulating Doors
Industrial Insulating doors of clear transparent PVC strips for uninterrupted passage in factories, shop floors etc.
Air doors PVC strips are an effective barrier against temperature, humidity and insects.

Strips 200 mm-300mm and thickness 2 mm-3mm

For medium and for low temperature
more

Members' login

Mailing list for Tepse news!



Wish to receive our product news and other? Please enter your e-mail address here.