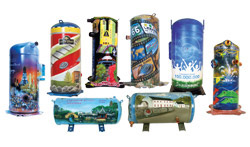 Emerson Turns Scrolls into Art
ST. LOUIS — Emerson Climate Technologies is celebrating its 100 millionth Copeland Scroll™ compressor milestone with an innovative global program designed to celebrate compressor technology and the people who make them.
Each of the eight Copeland Scroll compressor manufacturing facilities around the world turned one of their units into art by painting a compressor with a unique design reflecting the plant and local community. Plant employees and local artists from Sidney, Ohio; Lebanon, Mo.; Natchitoches, La.; Suzhou, China; Rayong, Thailand; Cookstown, Northern Ireland; Reynosa, Mexico; and Welkenraedt, Belgium, designed and painted each compressor.
Photos and descriptions of the compressors are available on the Copeland Scroll Facebook page, www.facebook.com/copelandscrollcompressors.